Local Ingredients
We proudly support over 1000 locally made Canadian products and partner with passionate producers and manufacturers who value the same things we do – high quality ingredients, traditional and authentic preparations, healthy, tasty, sustainable and local ingredients when possible.
Western Family Signature - Pasta, Trecce Dellorto, 454 Gram, $6.49
Pronounced "tre-cie-dell-or-toe". We use only the finest durum semolina flour & a selection of vegetables & natural ingredients which give our pasta a rich texture & flavor. Product of Italy.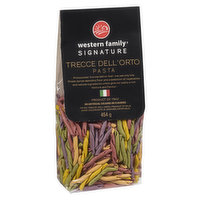 Western Family Signature - Pasta, Trecce Dellorto, 454 Gram
Open product description
Western Family Signature - Pasta, Trecce Dellorto, 454 Gram, $6.49

Pronounced "tre-cie-dell-or-toe". We use only the finest durum semolina flour & a selection of vegetables & natural ingredients which give our pasta a rich texture & flavor. Product of Italy.

Western Family Signature - Pasta, Trecce Dellorto, 454 Gram

Open product description

Western Family Signature - Pasta, Trecce Dellorto, 454 Gram, $6.49

Pronounced "tre-cie-dell-or-toe". We use only the finest durum semolina flour & a selection of vegetables & natural ingredients which give our pasta a rich texture & flavor. Product of Italy.

Western Family Signature - Pasta, Trecce Dellorto, 454 Gram

Open product description