Search results
Zevia - Zero Calorie Soda - Lemon Lime Twist, 6 Each, $5.99
A blend of pure lemon and lime oils to satisfy all your citrusy needs. 6X355ml cans. Carbonated Water, Citric Acid, Natural Flavors, Stevia Leaf Extract.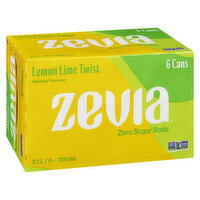 Zevia - Zero Calorie Soda - Lemon Lime Twist, 6 Each
Open product description
$5.99
was $7.49
$1.00 each
Can't find what you're looking for?