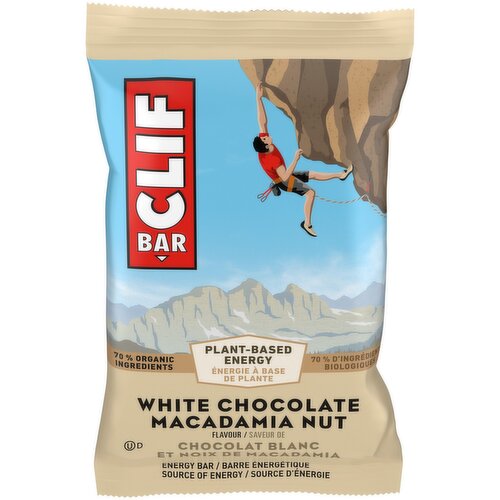 Clif - Energy Bar - White Chocolate Macadmia Nut, 68 Gram
Sale Information
Sales price valid from 2023-06-01 until 2023-06-21
Description
70% Organic Ingredients. Energy Bar. Nutritional Supplement.
Ingredients
Brown rice syrup*, rolled oats*, soy protein isolate, cane syrup*, roasted soybeans*, macadamia nuts, rice flour, cane sugar*, oat fibre*, soy flour*, high-oleic sunflower oil*, cocoa butter‡, natural flavours, cocoa butter*‡, sea salt, soy flour, rice starch, milled flaxseed*, barley malt extract, soy lecithin, tocopherols. Vitamins & minerals: dicalcium phosphate, potassium citrate, magnesium oxide, ascorbic acid, dl-alpha tocopheryl acetate, calcium carbonate, zinc citrate, manganese gluconate, niacinamide, biotin, copper gluconate, iron, beta-carotene, vitamin A palmitate, d-calcium pantothenate, sodium selenite, folic acid, pyridoxine hydrochloride, riboflavin, thiamine mononitrate, ergocalciferol, chromium chloride, sodium molybdate, potassium iodide, cyanocobalamin. CONTAINS MACADAMIA NUTS, BARLEY, OATS, AND SOY. MAY CONTAIN PEANUTS, OTHER TREE NUTS, MILK, RYE, TRITICALE, AND WHEAT. May contain nutshell fragments. *Organic. ‡Rainforest Alliance Certified™
Nutrition Facts
Serving Size 1 bar (68 g)
Product Number: 00722252121097
Sale Information
Sales price valid from 2023-06-01 until 2023-06-21
Description
70% Organic Ingredients. Energy Bar. Nutritional Supplement.
Product Number: 00722252121097
Ingredients
Brown rice syrup*, rolled oats*, soy protein isolate, cane syrup*, roasted soybeans*, macadamia nuts, rice flour, cane sugar*, oat fibre*, soy flour*, high-oleic sunflower oil*, cocoa butter‡, natural flavours, cocoa butter*‡, sea salt, soy flour, rice starch, milled flaxseed*, barley malt extract, soy lecithin, tocopherols. Vitamins & minerals: dicalcium phosphate, potassium citrate, magnesium oxide, ascorbic acid, dl-alpha tocopheryl acetate, calcium carbonate, zinc citrate, manganese gluconate, niacinamide, biotin, copper gluconate, iron, beta-carotene, vitamin A palmitate, d-calcium pantothenate, sodium selenite, folic acid, pyridoxine hydrochloride, riboflavin, thiamine mononitrate, ergocalciferol, chromium chloride, sodium molybdate, potassium iodide, cyanocobalamin. CONTAINS MACADAMIA NUTS, BARLEY, OATS, AND SOY. MAY CONTAIN PEANUTS, OTHER TREE NUTS, MILK, RYE, TRITICALE, AND WHEAT. May contain nutshell fragments. *Organic. ‡Rainforest Alliance Certified™
Nutrition Facts
Serving Size 1 bar (68 g)
Product Number: 00722252121097